DIRECTORS OR BOARD MEMBERS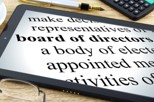 A cooperative is a member-owned and controlled business in which benefits are received in proportion to use. Control is preserved by members electing directors to represent their interests in governing the organization. Together, the directors hire and oversee the general manager or CEO; establish operating policies and act to meet the mission and vision of the cooperative through forward thinking and strategic planning. A board must be aligned with the overall strategy of the cooperative, aligned with the CEO and aligned with the long-term interest of the membership.
Board members have a duty of care to perform their responsibilities with a degree of care that an ordinarily prudent person in a like position would use under similar circumstances.
Board members have a duty of loyalty to act in good faith and in the best interests of the organization.
Board members have a duty of obedience to ensure that the organization complies with applicable laws and regulations along with its charter and bylaws.
What Cooperative Directors Do (CIR 14, 2011)
Who Runs the Cooperative Business? Board of Directors (CIR 45, Section 5, 2011)
Comprendiendo las Cooperativas: ¿Quiénes manejan los negocios cooperativos? La Junta Directiva (Informe de información cooperativa 45, sección 5, 2011)
GOVERNANCE
The Circle of Responsibilities of Co-op Boards (USDA CIR 61, 2017)
Cooperative Directors: Asking Necessary Questions (USDA CIR 62, 2018)
Aligning the Cooperative Board (Kenkel, P. Oklahoma State AGEC-1068)
Sample Policies for Cooperatives (CIR 39, 2012)
Annual Audits – Board Responsibilities
Strategic Planning Handbook for Cooperatives (CIR 48, 2012)
SECURING TALENTED BOARD MEMBERS
Nominating, Electing and Compensating Cooperative Directors CIR 63, 2014)
BOARD EVALUATION
Assessing Performance and Needs of Cooperative Boards, (CIR 58, 2013)
GENERAL MANAGER or CEO EVALUATION
Sample Management Evaluation Form (Kenkel, P. 2019)
FINANCE
Cooperative Financing, What is Finance and Why Does it Matter to Cooperatives
Defining Financial Conditions and Its Warning Signs